The law offices of Roy J. Kahn, P.A., have been serving clients since 1985 and is board certified in criminal law practice. Roy J. Kahn, with a bilingual staff, provides legal defense services for:
Anyone targeted in a state attorney investigation
Anyone targeted by a Grand Jury
Anyone called as a witness in a Grand Jury investigation
White collar/economic crime
Mortgage fraud
Homicide
Narcotics charges
Civil forfeiture of property used in committing a crime or gained as a result of illegal activity
Domestic violence
Tax evasion and avoidance
Health care fraud
International litigation involving extradition to the U.S.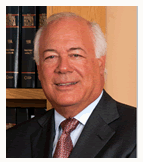 Our firm is qualified to handle the defense in federal cases in all 50 of the U.S. states.
We can be contacted 24 hours a day; in emergency situations we can meet with a prospective client immediately. To provide expert support for our clients, our firm employs retired federal investigators, former police officers and experts in other fields as well.